SEPARABLE ELBOW CONNECTOR

Nexans Euromold Interface A separable elbow connectors for terminating MV-HV cables (including XLPE EPR 11kV 17.5kV, 24kV) – a complete range of Nexans Euromold Separableelbow connectors for termination of medium/high voltage cables into switchgear, transformers, motors and substations up to 24kV.

Full supporting range of NexansEuromold Separable elbow connectors 11kV , Nexans Euromold Tee Connector,Nexans Euromold Screened Connectors , straight connectors, straight plugs, surge arresters and bushings suitable for Interface A bushings according to CENELEC EN 50180 and 50181.Euromold Interface A Nexans separable elbow connectors are suitable for termination of polymeric (XLPE EPR) insulated cables with copper wire or tape screen, wire armoured (SWA/AWA), wire braided or unarmoured cables into MV-HV Electrical Equipment with Interface A bushings.Euromold 400LR Separable elbow connector with 400A current rating is designed for Interface B and covers voltages from 11/12kV to 33/36kV with a maximum conductor size of 185sqmm.Euromold 400LR plug-in Separable elbow connectors can be supplied as a tee connector (400TE) and with plug-in type epoxy bushings – all suitable for use with Interface B type bushings on SF6 gas-insulated switchgear.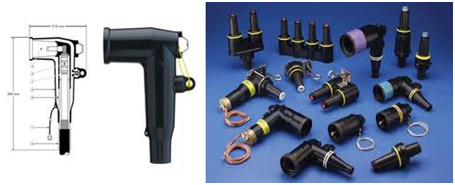 Euromold 400LR separable elbow connectors are designed to connect all polymeric screened cables to suit CENELEC Interface Type B (400amp) equipment bushings with 14mm Plug-In pins up to 36kV.Separable Elbow Connector accessories include: dead-end receptacle, dead-end plug, stand-off plug and earthing plug for type B Interfaces.Euromold Kit MT is required for use with copper tape screened cables, typically BS6622 cable – this comprises 3 lengths of tinned copper earth braid and constant force springs, the earth braid includes a soldered end with stud hole for the earthing connection to the HSGK cable gland or grounding point.400LR connectors are suitable for terminating MV-HV cables with either "easy-peel" or bonded semicon screens working at 33kV – the 400 Series Separable elbow connectors are specified for indoor cable termination applications, apply suffix (MWS) for outdoor cable connections where additional water-sealing and blocking mastic is required.